Cloud Computing in the Federal Government:
Perceptions, Obstacles, Opportunities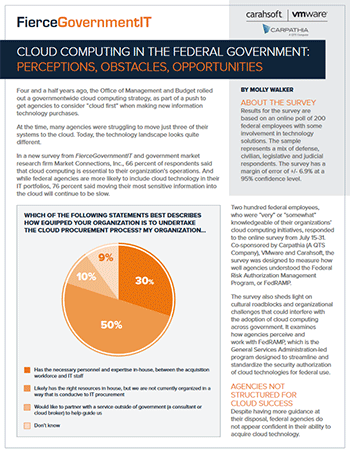 CLICK ON ICON TO SEE PROJECT COMPONENT

In 2010, the Office of Management and Budget rolled out a government-wide cloud computing strategy, as part of a push to get agencies to consider "cloud first" when making new information technology purchases. Many agencies struggled to move just three of their systems to the cloud. Today, the technology landscape looks quite different.
In a survey from FierceGovernmentIT and Market Connections, two-thirds of respondents said cloud computing is essential to their organization's operations. And while federal agencies are more likely to include cloud technology in their IT portfolios, three-quarters said moving their most sensitive information to the cloud will continue to be slow.
Fill out the form below to download the research report.
Cloud Computing in the Federal Government:
Perceptions, Obstacles, Opportunities
YOU WILL LEARN:
The biggest obstacles to shifting federal IT services to the cloud
Whether federal IT professionals feel they have the right in-house expertise to effectively buy a cloud service
The top challenges with using FedRamp to procure cloud services