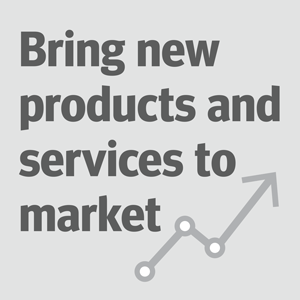 CHALLENGE: Bringing new products and services to market requires a significant investment in internal resources. You want to be sure the market will be receptive to your offering before you expend those resources.
SOLUTION: Market research helps you prioritize how and when to bring your products and services to market. It also helps mitigate the risks inherent in entering a new market. How? Market research provides the data necessary to support new product/service decisions and better understand the market structure and competitive landscape. The research results give you the true opinions of potential customers on all features and aspects of a new offering.
KEY SERVICES:
Market Opportunity Assessment: A market needs assessments can help you determine if, where, and with whom there truly is long-term growth potential for one or more of your products or services. These studies help our clients determine whether to keep, eliminate, or enhance their offerings.
Communications Testing: This research probes the appeal, credibility, relevance and usability of communications to evaluate impact and effectiveness. The results give you a clear path to address and overcome communications-related challenges and ensure your message resonates with, and is accessible to, your target audience.