The federal marketing landscape is changing. At the same time, content marketing has been growing and evolving to help marketers better meet the needs and desires of their target customers.
The question is, what are those needs and desires? You can have a robust content strategy plan and a great delivery mechanism, but if you aren't giving your prospects what they want, when they want it, then you won't see the returns you expect.
To help federal marketers target their content, Market Connections and Merritt Group have teamed to conduct a follow up to the 2015 Federal Content Marketing PulsePoll™. On Thursday, April 27, we will release the results and see what, if anything, has changed in the last two years.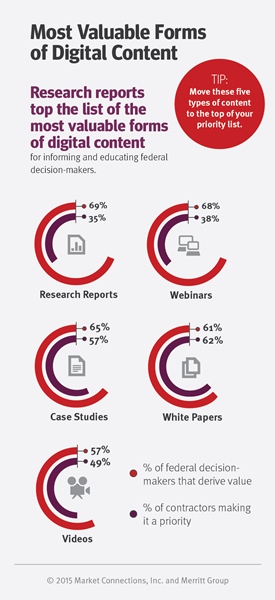 2015 Federal Content Marketing Review Key Results
While we don't have this year's poll results yet, we have been keeping an eye on what our clients are doing and the return it has. When it comes to informing and educating during the buying process, federal decision-makers still respond to the top three types of content:
webinars (68%)
research reports (69%)
case studies and white papers (64% and 62%, respectively).
It will be interesting to see if contractors have adjusted their content plans to respond to those numbers. In 2015, the top content they produced was case studies and white papers (57% and 62%, respectively), webinars (38%) and research reports (36%).
What do you think? Have you noticed any shifts in response to the types of content your company produces?
2017 FEDERAL CONTENT MARKETING REVIEW
Join Market Connections and Merritt Group as we present the results of the 2017 Federal Content Marketing PulsePoll™, followed by a panel discussion. Learn which content, formats, and channels are considered most relevant, influential and informative during the federal procurement process among government decision makers and the contractors who market to them. This year, we also asked about additional channels including social media and paid versus earned marketing.
Who Should Attend: Marketing/communications professionals investing time and budget to produce and distribute content, and business development and proposal professionals looking to make an impact when connecting with federal decision-makers.
When: Thursday, April 27, 8:30-11:30 AM (EDT)
Where: Crowne Plaza Tysons Corner
1960 Chain Bridge Rd., McLean, VA 22102
Who are the brightest minds in government IT problem solving? How are their ideas translating into programs shaping our government? Find out at The American Council for Technology and Industry Advisory Council's (ACT-IAC's) fourth annual Igniting Innovation 2017 Showcase and Awards event. Igniting Innovation showcases these ideas and successes, helping spread best practices to other IT professionals across government.
ACT-IAC has announced the Top 30 nominations — these government, industry, and partnerships at the federal, state, and local levels developed programs featuring ways to improving processes through automation, providing new digital services, and implementing cutting edge technologies. Click here to learn more about these 30 programs.
The innovators will display their ideas to the government technology community at the awards event on March 14, 2017. During the showcase, attendees (along with the judges) will vote for the Top 8 most innovative and effective ideas. Once the Top 8 are selected, attendees will again use social media voting to select the one overall Igniting Innovation award winner. A panel of onsite judges will present four Dynamite Awards for:
Impacter— greatest magnitude of innovation results and benefits.
Game Changer — disruptive innovation that creates a new market, significantly impacts an existing one, or results in a major breakthrough on a longstanding problem.
Transformer — uses existing technology to transform or extend existing capabilities resulting in new or broadened applicability and use.
Incubator— not-yet-deployed innovation with greatest potential to enhance services to citizens or government operations (must have at least a working prototype).
"We are excited about showcasing the best innovations to improve services to citizens and government programs," said Maria Roat and James Wallin, this year's co-chairs. "Our finalists represent some of the most innovative technologies and services in government today. Attendees will learn about solutions they can apply in their organizations, stay current on evolving technology, and expand their professional connections."
The Igniting Innovation Showcase and Awards event will be held on March 14, 2017 at the Ronald Reagan Building in Washington, D.C. Register today and view the list of Igniting Innovation 2017 Top 30 Finalists at: https://www.actiac.org/events/igniting-innovation-2017.
Igniting Innovation 2017 sponsors include Booz Allen Hamilton, Dell EMC, General Dynamics Information Technology, Hewlett Packard Enterprise, OnPoint, CSRA, and Hughes.
Marketing to the federal government is different from marketing to any other industry. Often government marketers must take the nuggets they can from B2B marketing conferences or resources, then figure out how to make them fit with the realities of marketing to the government.
That is, unless they attend the GAIN conference, a two-day event focused entirely on the government marketing community. The GAIN 2016 conference is Sept. 22 and 23 at the National Conference Center in Leesburg, Va., timed to arm government marketers with actionable intelligence as they begin their 2017 strategic marketing planning.
Who should attend? Anyone who works in marketing for a large, medium or small company, OEM or solutions provider. Attendees will leave GAIN 2016 with knowledge and insights to enhance and accelerate 2017 government marketing planning.
This collaborative and informative conference will focus on the hot topics facing all government marketers. Attendance is limited to government marketing professionals only (there are vendor sponsors, but the sessions are just for you). Three key benefits of attending GAIN are:
Government-marketing rookies and pros alike will expand marketing skillsets via the carefully crafted training workshops that speak to marketers at all phases of their career.
The agenda is full of leading-edge thinking on how to better connect with government customers and engage sales teams to achieve the goals of measurable ROI on marketing campaigns.
GMarkU Ambassadors, all of whom are former federal CIOs and IT, will share their experiences of where government decision-makers go to obtain IT knowledge when procuring vendor products, solutions or services.
Attendees will also have ample opportunity to interact and network with peers in government marketing.
Sound good? For more information please contact Lou Anne Brossman at 703-408-4311, email info@gmarku.com or click here to register.
Market Connections is a proud sponsor of GAIN 2016. We look forward to seeing you next week.
The federal government has prioritized modernizing enterprise architectures to harness the power of innovative technologies. But to do so, the current networks need an overhaul. At the FedScoop-produced 2016 Federal Forum last week, Brocade, a networking solutions developer, said the solution is the "New IP" (read full article).
Michael Bushong, vice president of product management for Brocade's networking software division told FedScoop that the adoption of the New IP could help federal agencies reduce their data center costs while being more flexible to new software and data feeds.
General panel discussions included:
Visit the 2016 Federal Forum website for presentations, photos and other information from the event. There you can watch presentations from Brocade CEO Lloyd Carney and Chief Scientist & Fellow, David Meyer.
The federal marketing landscape is changing. The days when a sales slick was enough to peak a prospect's interest in your products and services are long gone. And if your prospects even have the opportunity to attend events, they don't want your handouts. So what do they want?
To answer this question, Market Connections and Merritt Group polled federal decision-makers and B2G marketers in the 2015 Federal Content Marketing PulsePoll™. And the answer will likely surprise government contractors.
When it comes to informing and educating during the buying process, federal decision-makers tell us they value three top types of content:
webinars (68%)
research reports (69%)
case studies/white papers (64% and 62%, respectively).
While contractors place a similar value on producing case studies and white papers (57% and 62%, respectively), only a little more than one-third have prioritized creating webinars (38%) and research reports (36%). This gap could be keeping potential customers from learning about what you have to offer.
Which other types of content should you be focusing on? Join Market Connections and Merritt Group as we present the full results of this poll at the 2015 Federal Content Marketing Review. We will review the key findings and an expert panel of federal decision makers and contractors will discuss and debate the results. You will leave with solid ideas for creating content that will influence your audience.
Space is limited, so register now!
Who Should Attend: Marketing/communications professionals investing time and budget to produce and distribute content, and business development and proposal professionals looking to make an impact when connecting with federal decision-makers.
When: Tuesday, March 17 from 8:00 – 10:00 AM EST
Where: The Gannett Building, 7950 Jones Branch Drive, McLean, VA 22102
Cost: $59
By Allan Rubin, Guest Contributor
Vice President of Marketing, immixGroup
Despite a strong September for many government contractors, there's no denying the market outlook for IT companies appears uncertain. New realities for the contracting community include slim chances of a full budget bill passing anytime soon; the likelihood of more continuing resolutions that limit spending on new programs; a distracted Congress; and budgets that continue to decline.
Uncle Sam is continuing to invest in technology products and services, but we've seen shifts in how government customers buy. Budget pressures have increased competition for every order. Changing technology requirements and acquisition methods have shifted the government's focus to "lowest-price technically acceptable" (LPTA) procurements. On top of it all, travel bans and ethical concerns have made it increasingly difficult for many contractors to even meet face-to-face with customers.
Throw in the pressure from corporate headquarters to exceed revenue goals with fewer resources, and you've got a laundry list of reasons for those in the contracting industry to lose sleep. As immixGroup's Senior Market Intelligence Analyst Tom O'Keefe put it, "the days of seven percent overall IT budget growth are done."
Luckily, it's not all doom and gloom. Even with cuts, federal IT spending is projected to reach $73.7 billion this year according to the OMB Exhibit 53. immixGroup expects that number to top $120 billion when embedded IT and intelligence community spending are factored in. And the state and local market is heating up, with IT spending climbing to $95 billion in FY2015.
While some agencies and programs face budget cuts, others are expected to invest more heavily in IT products and services. Pockets of technology, like cybersecurity, big data, mobility, and cloud remain strong with growing demand. There are reasons to be optimistic, but you have to know where to look … and what to look for.
With so much market uncertainty, immixGroup will host an event to help the government IT sales and marketing community make sense of this changing market and help technology companies grow their businesses in a flat federal market. The Government IT Sales Summit is not another government conference targeting government audiences and discussing high-level policies and long-term trends, but one that focuses specifically on the business needs of IT companies selling into the public sector. The focus is on helping government IT service providers increase government sales in the new year.
Taking place on November 20 at the McLean Hilton, the Summit offers a full day of market intelligence and networking for IT companies targeting federal, state, and local agencies. It will deliver the relationships, tools, and insights needed to win more business and better serve government customers.
Highlights of this information-packed event include:
It's a great opportunity to uncover sales leads, re-connect with old friends, establish new business relationships, identify potential partners, learn about new technologies, and prepare yourself (and your team) for a productive year ahead. That's not bad for a day's work.
HURRY: registration closes tomorrow, November 18, 2014 at Midnight. Reserve your seat now at GovITSalesSummit.com.
On October 14, 2014 the Professional Services Council (PSC) and Market Connections released the results of a new study on the impact of convergence on government acquisition. As this As-a-Service (XaaS) model is still in its early days, the purpose of this research was to benchmark the status of convergence and reveal gaps in adoption and understanding between government and the contractors who serve them—and to form the basis for discussion between government and contractors on how to move forward with this market shift.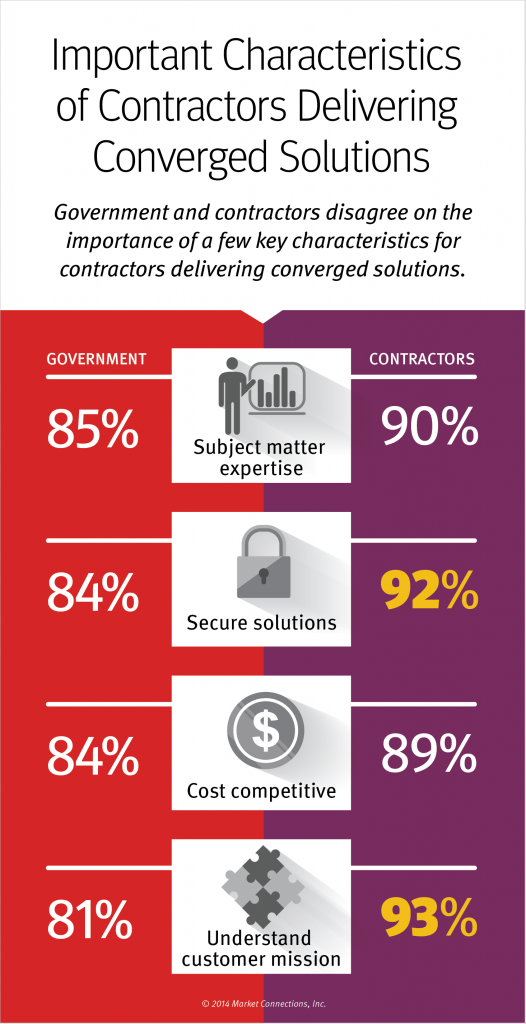 To start the conversation, PSC convened a panel of government and industry professionals to discuss their perceptions of, and experience with, convergence. The panel, moderated by David Wennergren, PSC Senior Vice President, Technology, included: Steven Cooper, CIO, U.S. Department of Commerce; John Garing, Vice President, ViON; Julie McPherson, Vice President, Booz Allen Hamilton; Chris Smith, Vice President of Technology, AT&T Government Solutions; and Stanley Tyliszczak, Vice President of Technology and Chief Engineer, General Dynamics Information Technology.
The study showed that while both government decision-makers and contractors agree that convergence is causing a shift in how government buys and industry provides solutions, government respondents revealed significant perceived barriers to adoption such as security risks and cost concerns. The panelists were nearly unanimous in their perceptions of why this is, and what to do about it.
Partnering for Education is Key
Regardless of the barrier under discussion—security, budget, procurement—the panel agreed education is the key to acceptance and adoption.
"In the face of rapid change, things that have been working don't anymore. What if we worked together to educate the government on the art of the possible?" said Cooper.
He added that if what government wants does not fit with the way services need to be delivered for the future, contractors needs to focus on partnering with government to educate them about what is possible.
McPherson noted that implementing converged solutions is an orchestration problem; there are many moving pieces, which also suggests a need for education.
"There has to be give and take with XaaS," said Smith. "We need more open conversation between the government and industry."

Give Them What They Want
Smith and Garing both stressed the importance of listening to government and delivering what they want. "A build it and they will come model may not work," said Smith.
The panel agreed that in today's environment, there is an expectation—regardless of mission—that contractors will deliver a converged solutions, even if that isn't explicitly what they are asking for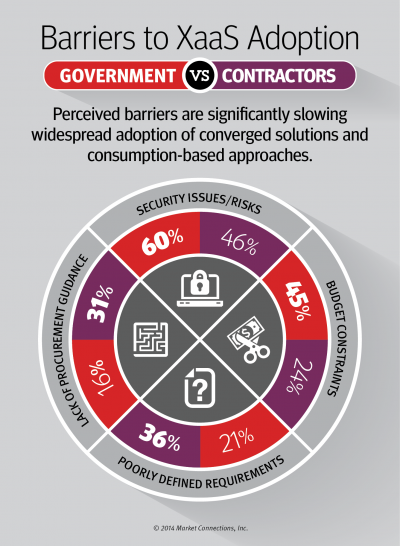 Contractors need to find the right balance. "Some companies have their big toe in the water, but aren't sure if everyone is jumping," said Smith.
Navigating Procurement
Garing believes the pressure to spend money wisely is going push government to an XaaS model. He also feels that to be successful, XaaS agreements "have to have prudent and practical requirements and share the risk."
One of the notions surrounding procurement in this new model is moving from CapEx to OpEx funding. Cooper noted that at Commerce, they are discussing ways to do this, and are assessing "speed to valued delivery," or how fast they can bring a value proposition of integrated solutions into production. "If we can achieve speed to outcome while mitigating risk and educating stakeholders, I am optimistic about where we are going," he said.
XaaS requires a shift from the traditional statement of work (SOW) to a statement of objectives (SOO)—a shift that, according to Smith, changes things internally and makes government uncomfortable. Cooper agreed: "The shift from SOW to SOO is a challenge because there is concern about 'what am I going to get from industry?'"
Tyliszczak added there needs to be flexibility on both the government and industry side to make the shift happen.
At the end of the day, the panelists believe that government will adopt convergence models. As Tyliszczak noted: "As-a-service is not mystical—it's been around for a long time in our personal lives."
To learn more, download the research report, white paper & infographics.
By Allan Rubin, Guest Contributor
Vice President of Marketing, immixGroup
What a difference a year makes. The end of the government's fiscal year in September 2013 was characterized by sequestration, continuing resolutions (CRs), and a government shutdown threat that became a crippling reality. Now that September 2014 is behind us, many contractors are breathing a sigh of relief after a strong selling season.
Hopefully you've had a chance to relax and recharge — and chances are your financial statements are a bit healthier. Most of the solution providers and manufacturers immixGroup has heard from reported that sales were up compared with last year's numbers.
In an article on October 1, Washington Technology's Nick Wakeman shared some DoD contract award numbers that demonstrate how the September rush has changed over the last few years. According to Wakeman: "The end of fiscal year pressure has always been great, but it has grown, and government buyers feel the need to buy because they just don't know what will happen to their budgets."
He adds: "The current continuing resolution puts off any decisions on budgets until December and the lame-duck session of Congress. It is doubtful that we'll see a shutdown at Christmas, but the game of chicken could well return."
And therein lies the question: what happens next? Will a busy September (actually, a couple of busy months for many of us) lead to continued strength in the year ahead? Or should we expect an immediate drop-off now that the September rush has passed?
In a blog post on Government Sales Insider this summer, immixGroup Senior Market Intelligence Analyst Chris Wiedemann made the case for planning ahead for the post-September "realities." Those include:
Limited chances of a full budget or a "minibus" funding bill any time soon
A short-term CR (the one that passed runs through December 11), with another one likely to follow
A distracted Congress focused on midterm elections, ISIS, and other pressing international issues
The possibility of a change in control in the Senate
The likelihood that spending will continue at FY14 funding levels for some time
So now we must evaluate our pipelines for the rest of the year. Our focus should shift back to identifying new business opportunities and putting in place the tools (marketing activities, market data, contracts, relationships, etc.) we need to close deals in the months ahead.
To continue the momentum you gained in September, you'll need to reprise the strategies you've used during previous CRs and look for ways to map new sales and marketing messages to funded programs from prior years. There's an upcoming event that can help you get started.
At immixGroup's Government IT Sales Summit (November 20, 2014 in McLean, Virginia), market intelligence analysts, current and former government employees and industry experts will share information about existing and new sales opportunities. The event will feature immixGroup's annual IT Budget Briefings for DoD and civilian agencies, as well as insights into how solution providers and vendors should adjust their strategies to better serve their government customers and win more business in cybersecurity, cloud, big data, data center optimization, and other critical areas.
Attendees will also have the chance to network with potential partners, discover new technology products, understand the contract landscape, explore state and local markets, improve marketing and sales tactics and gather data that will inform business plans for the coming year.
Register at GovITSalesSummit.com and join the conversation about how contractors can survive — and thrive — in the flat market that lies ahead.
Allan Rubin is Vice President of Marketing for immixGroup, Inc., which helps technology companies do business with the government. He is a regular contributor to immixGroup's blog, Government Sales Insider.
On Tuesday, October 14, Market Connections, Inc. and Professional Services Council will release a new study on the "convergence" of technology and professional services. The research study assesses government officials' and industry leaders' understanding of convergence, as well as their current and planned use of consumption-based "as a service" acquisition approaches. While everyone agrees that convergence is causing a shift in how government buys and industry provides solutions, the survey unveiled a number of key insights and differences in perspectives between government and industry.
WHO: Market Connections and PSC
WHAT: Convergence: A Survey – Research Release Event and Panel Discussion
WHERE: NRECA Conference Center, 4301 Wilson Blvd., Arlington, VA 22203
WHEN: Tuesday, October 14, 2014 from 10:30 a.m. – noon
"This study shows us we are on the cusp of a shift in the marketplace," said Lisa Dezzutti, president and CEO of Market Connections. "Convergence is about more than just IT and technology. It involves changes in how government scopes and procures services and technologies, how contractors shape their offerings to the government and the up-front investments contractors make to build and support 'as a service' models."
The October 14 release event will include a detailed discussion of the research findings and in-depth analysis from leaders in government contracting and government IT.
WHAT YOU WILL LEARN:
The impact of convergence on government and contractors and reasons behind it
Top convergence trends impacting government and procurement
Current government use and future plans for "as a service"
Perceived benefits and barriers to adoption of "as a service" models
Important characteristics of contractors delivering converged solutions
SPEAKERS:
Lisa Dezzutti, President & CEO — Market Connections, Inc.
Dave Wennergren, Sr. Vice President, Technology Policy — Professional Services Council
Steve Cooper, CIO — Department of Commerce (invited)
Chris Smith, Vice President, Technology — AT&T Government Solutions
Stanley Tyliszczak, Vice President for Technology Integration and Chief Engineer — General Dynamics Information Technology
Save your seat today to join in this discussion. Registration is open to members of government, the contracting community and the media.