What if enterprises had a standard for measuring the spectrum of mobile risk that provided visibility into the prevalence of threats, software vulnerabilities, and behaviors & configurations? Well, now they do. In May, Lookout unveiled the Mobile Risk Matrix, a framework illustrating the array of mobile risks across app, device, network, and web & content vectors, to help enterprises accurately identify, assess, and secure their mobile workforce. Within the framework, Lookout provides new insights on the prevalence of enterprise mobile risks pulled from the Lookout Security Cloud, a massive data set of mobile code from existing enterprise and personal customers.
The growing adoption of mobile in the enterprise has allowed for increased flexibility and productivity. However, it also brings a new set of risks to desktop-level security specific to this evolving endpoint. Lookout designed the spectrum of mobile risk to help enterprise CISOs understand and prioritize the security concerns they must address on mobile devices.
As companies across the globe continue adopting mobile to increase productivity, Lookout is constantly innovating to provide customers with the most comprehensive security solution available. With the release of this framework, Lookout Mobile Endpoint Security customers are able to:
Understand application interactions with social media.
Gain insight into secure and insecure data handling.
Increase visibility into out-of-date OS and configuration risks.
Enhance risk remediation capabilities via integrations with enterprise solutions.
For continuing to address risk in an evolving arena, Lookout has earned a Market Connections Top Innovator commendation.
As workforces across industries become more mobile, identity management is an increasing challenge. To address that challenge, IBM has developed a new hybrid cloud service to manage how employees gain access to their preferred business applications.
It's called IBM Cloud Identity Connect. This Identity-as-a-Service (IDaaS) provides users with rapid access to thousands of popular cloud apps while enabling single sign-on (SSO) to their applications, whether from the cloud or on-premise.
Managing and securing multiple identities across a business becomes more complex on mobile and IoT devices, desktop environments, and internet services. These complications are magnified as enterprises continue their journey to the cloud trying to bridge from their traditional on-premise tools and operate in a new hybrid world.
"Businesses need to infuse identity everywhere. Cloud Identity Connect makes it easier than ever before for customers to inspire productivity and efficiency, while helping ensure their enterprise is securely managed and can effectively transition to the cloud," said Jason Keenaghan, Director of Strategy and Offering Management, IAM and Fraud, IBM Security.
The IBM family of IDaaS tools provides seamless access to applications across cloud, on-premise, mobile and IoT devices, and hybrid environments. These tools give enterprises access management capabilities born-on-the-cloud without sacrificing their existing investments. IBM Cloud Identity includes following services Cloud Identity Connect, Cloud Identity Service, and IBM MaaS360 UEM.
For the company's efforts to enable mobile workforces by making applications more secure, IBM has earned a Market Connections Top Innovator commendation.
The 2016 Government Contractor Study reveals that more than half of government contractors (53 percent) find customer relationship management to be a challenge for marketing and business development. Knowing when and how to engage with a government customer is a key to managing these relationships — whether that customer is a current client or a prospect.
Engagement is important at every stage of the customer lifecycle, from before the RFP is issued through the life of the contract.
Customer Engagement Via Mobile Devices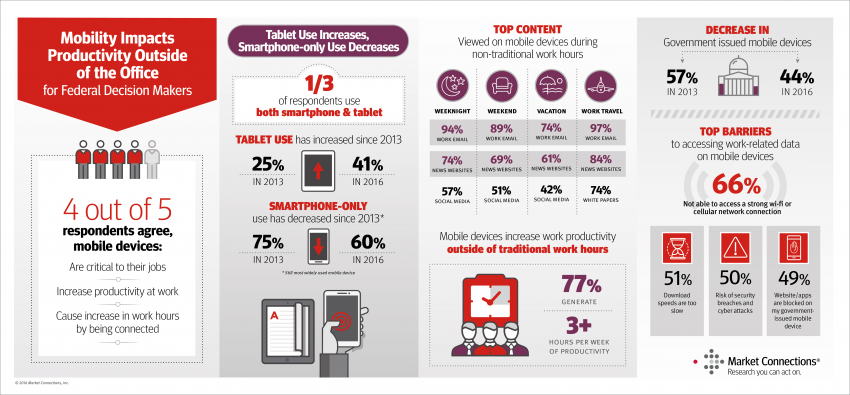 As mobile device usage dramatically increases, engaging with clients and prospects is easier — you can reach them outside of business hours and deliver the kind of content they want, when they want it. Market Connections recently conducted a PulsePollTM on government decision- makers' mobile device usage. The study found that the majority of federal decision-makers check social media sites, news websites and work email during non-traditional work hours. That means you have more opportunities to reach them during times when they are not performing other job tasks.
Types of Messaging to Use
Engaging with them more frequently with content that educates and informs is a good way to provide more value and increase customer satisfaction. Customers are looking to engage with you differently depending on where they are in the sales lifecycle. Below are some broad guidelines for that engagement.
Awareness
At this stage, customers' emotions are high and their knowledge of what you offer, low. They have a problem and are looking for a solution. Get their attention with short, emotional conten
Interest
At this stage, customers have some ideas about how to solve their problems. Now they need justification for their interest. Talk about benefits and how those benefits solve problems.
Evaluation
This is an important stage: The prospects are looking at all the options with an open mind. You must provide enough depth of information to maintain credibility and establish your employees as experts. Content must educate prospects about not only the product or service, but also industry tr The prospect needs solid reasons to move forward with you.
Purchase
Emotions are running high again. At this point, it's important to assuage fears about making a wrong decision. Content needs to reinforce the emotions you used to gain their attention and trus
Establishing relationships goes beyond the day-to-day, face-to-face interactions you have with clients and prospects, although those will always be the most important touch points. But engaging your customers and prospects via other channels and at different points in the relationship builds trust and loyalty, and ultimately improves customer satisfaction.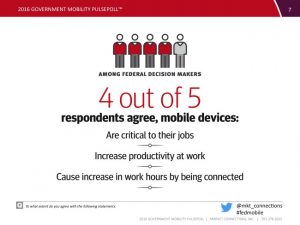 Every year, the Market Connections Federal Media and Marketing Study asks federal decision-makers about their use of mobile technology, and each year the study a significant increase in mobile usage. That federal decision-makers are increasingly using mobile devices is not surprising. But it does raise additional questions. Are feds using mobile devices for work? Does this make them more connected? Does it affect how we should be marketing to them?
To answer these questions, Market Connections conducted the 2016 Mobility PulsePoll™ of federal decision makers. And the answers are: yes, yes and yes.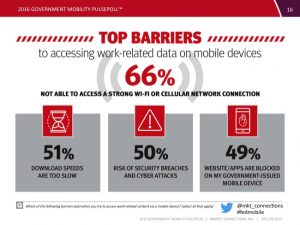 What that means is that as a federal marketer today, you must have a mobile strategy for reaching your audiences. As you build your mobile strategy, use these key research findings to guide you:
Four out of five respondents agree:

Their mobile device is critical to their job.
Their mobile device makes them more productive at work.
They tend to work more hours each day, since their mobile device keeps them connected to work anytime and anywhere.

Those who use BOTH a personal and employer-owned mobile device agree significantly more that their device is critical to their job: (91 percent)
Those who use BOTH a personal and employer-owned device and those who use ONLY an employer-owned device spend more time per day on worked-related tasks on a mobile device than those who use their personally owned device.
Finally, when asked how much time they spend accessing certain types of work-related content on mobile devices, the work email was No. 1. Nearly three-quarters of respondents said they spend 15 minutes or more checking it on weeknights and weekends and two-thirds spend that amount of time while on vacation.
The results showed a clear trend — those using an employer-owned device, whether solely or with a personal device, tend to:
Use their mobile device more for work
Have more productivity hours as a result of their mobile devices
Find mobile devices more critical to their job than respondents who just use their personally owned device
Just a thought: If you're looking to make a business case for a government-issued mobile device, this research will help you justify an increase in productivity and work by government employees outside traditional hours or while traveling.
The full results of the 2016 Mobility PulsePoll™ Report and Infographics: are available for download at: www.marketconnectionsinc.com/FedMobile
Save the date: 2016 GOVERNMENT CONTRACTOR STUDY BREAKFAST

Of course, marketing to the federal government includes more than mobile strategy. One of the keys is understanding how to differentiate to reach federal decision makers. Market Connections will release the results of the 2016 Government Contractor Study, which explores this topic and more. The results will be released at a breakfast event June 30.
2016 Government Contractor Study Breakfast
June 30, 2016
TEGNA Conference Center
McLean, VA
Individual Ticket: $75
Table of 8: $500
With the majority of people using mobile devices, there is no doubt that our world is more connected than ever. But does that connectivity result in more work productivity? Results of a new Market Connections PulsePollTM indicates the answer is yes, at least for federal decision-makers.
The survey results, released last week, show that more than eighty percent of federal decision-makers believe mobile devices are critical to their jobs, make them more productive and increase the hours they work.
This study is a follow-up to a 2013 study on mobility. In addition to looking at productivity, the survey explores the type of work-related content and media federal decision-makers view on their mobile devices, how much time they spend on mobile devices outside of traditional business hours, and top barriers they face in accessing data on their devices.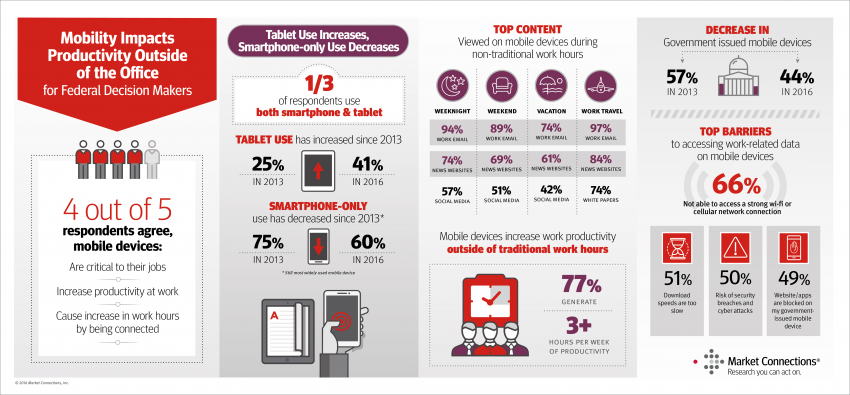 Key findings include:
Tablet use for work-related tasks has increased significantly since 2013.
Federal decision-makers feel mobile devices make them more productive, with more than three-quarters saying they generate three or more hours of work per week due to the connectivity they have with mobile devices.
Over eighty percent spend fifteen minutes or more using their mobile devices to work on weeknights and weekends, while nearly seventy-five percent do so while on vacation. These percentages increased significantly when government employers provided mobile work devices.
Decision-makers also shared the top work-related content and media they access on their mobile devices outside of normal work hours. Not surprisingly, work email was the top content accessed in all timeframes, followed by news websites. On weeknights, weekends and vacation, social media ranked number three. White papers replaced social media as top content when respondents are on business travel.
These findings are important for contractors who are increasingly looking for effective ways to reach federal decision-makers. The study shows marketing efforts need not be confined to traditional work hours.
To see the full report, visit https://www.marketconnectionsinc.com/FedMobile.
As agencies modernize IT and adopt new technologies, IT leaders face new challenges in managing and monitoring their IT environment. To what degree do these technologies and trends really affect the control IT departments have over agency IT? SolarWinds commissioned Market Connections to conduct a market research study to find out. Specifically, the research focused on shadow IT, mobile device usage and shared services.
The survey reveals that as shadow IT and mobile device use continues to expand within federal IT environments, some IT pros lack control and confidence in their ability to manage the accompanying security risks. The survey also shows that organizations are overcoming their historic resistance to shared services.
Highlights of the findings:
Shadow IT seen as area of least leadership focus despite growing security consequences
Shadow IT comprises those IT systems and solutions built and used inside organizations without explicit organizational approval. Nearly six in 10 respondents (58 percent) expect the use of shadow IT to increase in the next two years, while only 12 percent indicate shadow IT is an area of high importance and leadership focus in their agency.
Shadow IT ranks second among areas over which IT departments have least control in terms of management and monitoring.
Only 13 percent of respondents are very confident in their ability to protect against the negative consequences of shadow IT.
A majority of respondents (71 percent) indicate that security consequences are the biggest issue with shadow IT, followed by duplication of IT efforts (50 percent), lack of interoperability (37 percent) and lack of adequate performance monitoring (36 percent).
Organizations using management and monitoring tools are significantly more confident than those who do not in their ability to protect against the negative consequences of shadow IT.
Lacking confidence in data protection persists even with agency control of mobile devices
Thirty-six percent of respondents indicate that only agency-owned mobile devices are allowed to access their systems. While 80 percent of respondents believe that mobile devices pose a threat to their agency's security, 35 percent don't provide security training for mobile device users.
Only 25 percent of respondents are very confident in their agency's ability to effectively protect their organization's data.
The majority of respondents utilize data encryption (65 percent), firewall rule audits (60 percent), mobile device wiping (55 percent), mobile application inventory and authorization (52 percent). and two-factor authentication to secure mobile devices (52 percent). However, 35 percent of respondent haven't fully implemented any of these solutions.
Respondents indicate that securing both the application and the device (43 percent) was the most challenging aspect of mobile technology security, followed by ensuring that devices are not infected by malware (37 percent) and that data is not accessed by unauthorized users (36 percent)
IT-shared services continue to gain traction in federal IT, delivering financial and performance benefits
Despite perceived concerns that IT shared services would compromise security, performance and control, more than half of respondents see them as beneficial to all agency stakeholders — including IT department personnel, end users, agency leadership and citizens/constituents.
Respondents rated the key benefits of shared services as saving money by eliminating duplication (60 percent), achieving economies of scale (54 percent) and standardized IT services for consistent performance (52 percent).
More than 80 percent believes that either an internal shared services model or an outsourced private partnership is most likely to provide superior customer service versus no shared services.
The biggest widespread adoption barriers for shared services include cultural resistance to change (56 percent), perceived decreased flexibility (37 percent) and lack of executive buy-in (37 percent).
"Fully securing a federal IT environment will undoubtedly remain a key concern for IT pros, and as control issues creep in with shadow IT and the mass adoption of mobile devices, security is brought to the management forefront," said Joel Dolisy, CIO and CTO, SolarWinds. "Agency leaders must not only provide their IT pros with the right tools to maintain control and security of their infrastructure, but remain flexible in considering operational and organizational changes such as IT shared services that can help institute agencywide security protocols and more."
To learn more, download the full report.
In June 2015, Market Connections released the findings from the 2014 Federal Media & Marketing Study, which included the latest trends in the ever-changing federal media landscape.
The past few years have shown the lines blurring between the personal and business use of social media and mobile devices — a factor that may have to do as much with advances in technology as with the fact that the first "digital generation" has entered the workforce.
The 2013 Federal Media and Marketing Study didn't just show that mobility had arrived; it proved mobility as a major influencer of government professionals' access to news and information. The 2014 study showed that:
Mobile device use increased from 63 percent in 2012 to 80 percent in 2014.
Government employees feel their mobile devices are increasing productivity and are critical to their jobs (about 80 percent for both).
iPhones and iPads are the devices used most often to access news websites, videos and social media. Blackberries are still used for email (about 17 percent).
Will those trends continue? Will generational differences continue to impact how the federal government consumes media? Find out on Oct. 1, 2015 at the annual results briefing.
In the meantime, listen to this podcast with Lisa Dezzutti, president and CEO of Market Connections, who provides additional insights into the findings of the 2014 study.
The Obama administration's Digital Government Strategy is now a year old, and with it comes the task of putting words into action. On May 23rd, the government did just that with the release of standards for the strategy's mobility deliverables that included the Federal Mobile Security Baseline (FMSB), Mobile Security Decision Framework (MSDF) and Mobile Security Reference Architecture (MSRA).
In a May 23 conference call, Federal CIO Steven VanRoekel told reporters, "The future for us really holds a future where mobile is the default computing platform.  We're not far from mobile being the default computing environment and the fact that we treat them differently is a disconnect."
Government computing moving toward mobile as the default is supported by data from a May 2013 Market Connections-Fierce Government IT PulsePoll™, in which 82% of respondents said their mobile devices are critical to their jobs, and 81% said their mobile devices increase productivity. Additionally, Market Connections' 2013 Federal Media and Marketing Study, released May 16, showed tablet usage in the government doubling from 31% to 60% in just one year.
Security is the utmost concern with mobile devices and the Federal Mobile Security Baseline (FMSB) sets a minimum set of security controls for mobile device use in federal agencies. The challenges with mobility are vast; thus, getting members of the Mobile Technology Tiger Team, which includes the Department of Homeland Security, Department of Defense, National Institute of Standards and Technology, Department of Justice and General Services Administration, on the same page was essential.
The Mobile Security Decision Framework (MSDF) puts the decision-making into the hands of each agency to effectively support their respective missions. In other words, it allows each agency to select the proper mobile solution to support their mission by dividing the process into four stages: mission requirements, decision balancing, risk-based tailoring and results.
The Mobile Security Reference Architecture (MSRA) was designed to implement secure mobile services across enterprise architecture platforms. The Federal CIO Council and DHS' National Protection and Program Directorate Office of Cybersecurity and Communications Federal Network Resilience collaborated to produce this set of standards.
This "living, flexible" guide listed the following related to the MSRA:
Components of a mobile computing reference architecture;
Categories for users of a mobile computing architecture;
Sample implementations of a mobile computing architecture;
Management and security functions of a mobile computing architecture;
A discussion of the threats to mobile computing devices and infrastructures, and potential mitigations for those threats;
Information assurance controls that apply to the mobile infrastructure components, and their relation to NIST Special Publication 800-53 rev4;
A set of considerations for High Risk environments; and
A discussion of the policy considerations necessary for the secure adoption of a mobile solution.
Despite resources being thin, the government's mission must move forward. The government's decision to move forward with these three standards — FMSB, MSDF, MSRA – reinforces the Market Connections and Fierce Government IT poll findings that mobile solutions can increase government efficiency, enhance field work and add flexibility that enhances productivity.
Working with agencies to develop the right mobile and security solutions can present ongoing opportunities to serve government and increase productivity.
A new Market Connections-FierceGovernment IT PulsePoll™ shows that federal employees believe mobile devices make them more productive.
300 federal employees responded to the survey in March and April, with 60 percent of the participants being federal civilian employees.  Seventeen percent work for the Defense Department or a military agency.  Approximately 22 percent are in the legislative branch and about three percent are in the judicial branch.
Below are the key findings.
Enhanced Productivity
More than 80% of government employees agree that a mobile device makes them more productive and is critical to doing their job. Seventy-two percent say they spend more time working while traveling or commuting as a result of their mobile devices. And 62% say mobile devices increase their productivity when working in the field.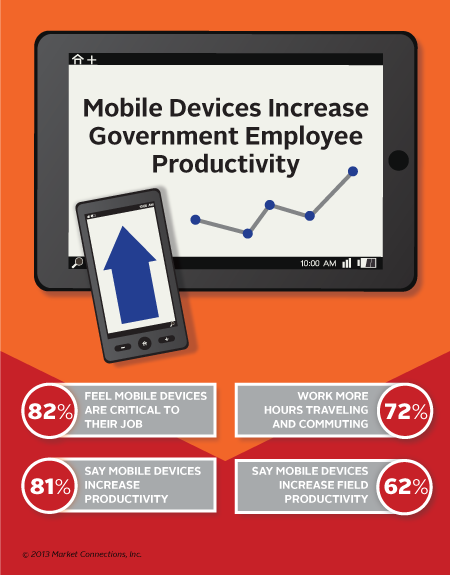 Mobile Solutions Free Up Time
The people who said their mobile devices make them more productive at work estimated how many additional work hours they generate per week. The vast majority, 79%, said they generate three or more hours per week, while 51% say they generate five or more hours per week and 29% say they generate seven or more hours per week.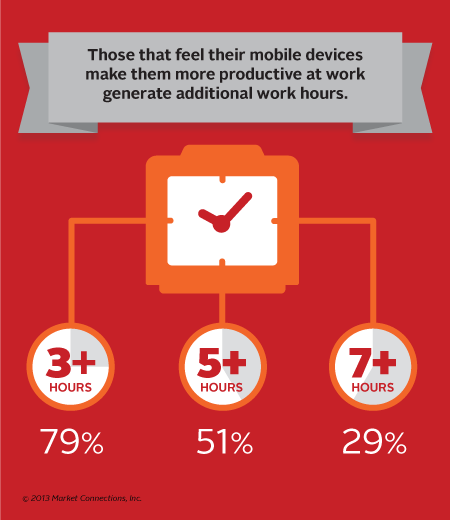 Use of Tablets Enhances Productivity
Respondents who use a tablet and a smartphone are significantly more likely to feel enhanced productivity than those who use only a smartphone –92 percent versus 78 percent, respectively.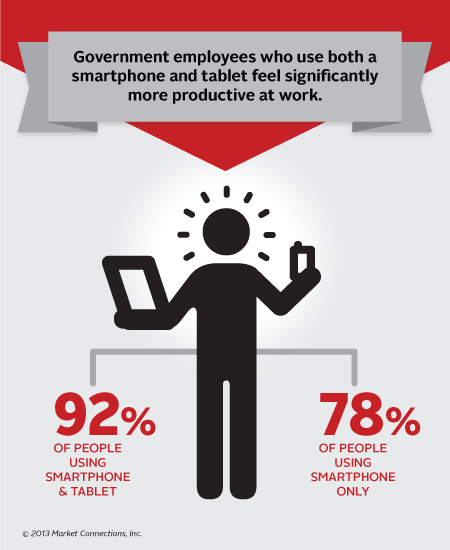 Mobile Solutions Dictate Where and How Much People Work
Thanks to mobile devices, 63% percent of government workers say they spend more time at home or after hours on work they otherwise would not dos.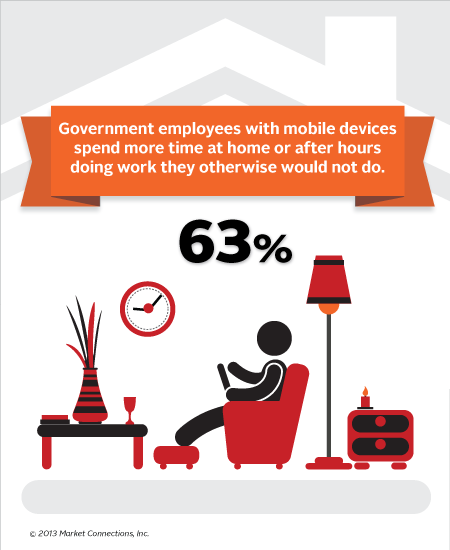 In a time when resources are stretched while mission requirements remain the same, these PulsePoll™ results reinforce that mobile solutions can increase government efficiency, enhance field work and add flexibility that enhances productivity.  For industry members, working with agencies to develop the right mobile and security solutions can present ongoing opportunities to serve government and increase productivity.
In addition, to learn more about how government executives are using mobile solutions, don't miss out on the Federal Media and Marketing Study 5th Anniversary Breakfast and Briefing taking place next week. Click here to register and learn more.
Even with uncertainty still looming for both government contractors and employees, we can still keep up the dialog about the future of government technology and innovation.
According to two recent studies, government agencies will experience a period of considerable transformation as cybersecurity, big data analytics, mobility, social business and cloud solutions influence government IT and communications in 2013. Even without a resolution to the federal budget in place yet, analysts still believe IT investments will continue, especially as consumer use of smartphones, tablets and social media forces the government to keep pace with workers and citizens.
Brad Antle, CEO of Salient Federal Solutions, stated in a January 7 GovWin blog post, "I think they're [the federal government] going to find a way to provide a much gentler ramp to any kind of spending cuts, and I think [the cuts] will probably be less aggressive."
The recent IDC Government Insights "Top 10 Predictions" study found that the rapid adoption by government organizations of the aforementioned growth areas will propel "smart strategies" into 2013. Thom Rubel, Vice President, IDC Government Insights, stated, "I think the big news here is what's happening with devices and data in government." Identifying the best practices for device and data use across agencies and municipalities will help them achieve mutual goals. "As they do that, there will be big implications for how and what they buy, as well as the impacts those choices will have on how they interact with, share, analyze, and store information. It will be a changed game," he said.
Here are the top 10 predictions from the study:
Prediction 1 – Infrastructure consolidation will hit its peak as governments accelerate cloud adoption by over 50% over 2012 levels, accounting for over 7% of all government IT spending.
Prediction 2 – Tactical deployments of big data solutions will grow by over 30% CAGR and will accelerate broader pervasive analytics deployment, laying the foundation for "smart government."
Prediction 3 – Agencies/organizations/offices will rapidly begin to rationalize and establish baseline costs for IT assets and identify endpoint device choices – PCs, tablets, and smart phones – for "best use."
Prediction 4 – Mobile devices and apps, smart sensors, cloud computing solutions, and citizen-facing portals will create a 48% increase in digital information, creating new records management access and retrieval issues.
Prediction 5 – Cloud sharing/collaboration among governments (federal, state, and local) and shared services will account for 18% of the government cloud market and create new business models for IT procurement and provisioning.
Prediction 6 – Though they continue to lag behind other industries in investing in social business software, 35% of government organizations will initiate social analytics tools evaluation and/or implementation.
Prediction 7 – All levels of government will accelerate mobile application development. In 2013, 35% of new federal and state applications will be mobile and 45% of new local applications will be mobile.
Prediction 8 – Over 40% of U.S. local governments will be in the research and evaluation stage for Smart City pilots/projects and 50% of these will begin some level of implementation in 2013.
Prediction 9 – Government organizations that promote open data will foster 25% more private commercial activity in apps and services that will facilitate improved outcomes across a range of government goals.
Prediction 10 – Public/private partnerships will be redefined based on mutual mission goals and outcomes that create mutual government/commercial partnership and research benefits.
We also examined the Lockheed Martin Cyber Security Alliance study, conducted last fall by Market Connections, Inc., which revealed that 85 percent of government technology decision makers at federal, defense and intelligence agencies see cyber security as a high priority, topping big data and cloud solutions.
For many in the government IT sector, these insights are reinforcing what many of us already knew. According to Market Connections' Government Contractor Study and recent follow-up poll, contractors with higher win rates are seeing more opportunities in cybersecurity and cloud computing, even with looming budget cuts on the horizon.
Longtime government contracting industry veteran and commentator Mark Amtower recently pointed out trends that should not be forgotten in 2013, which include the resurgence of the need for solid, content-driven company websites and the use of social media for enhanced citizen engagement. With respect to social media, he also pointed out that LinkedIn has gone from 50 million members in early 2010 to almost 200 million members to date, with tens of thousands working in the federal sector.
"Now more than ever, contractors need to understand client needs and solution requirements quickly, not through trial and error, so that they can meet those needs in a way that differentiates them from the competition and delivers value to both the customer and the bottom line," said Lisa Dezzutti, President and CEO of Market Connections, Inc.
Advances in cloud, mobile, big data and cyber security will allow agencies to be more effective and will protect sensitive data and information, and contractors offering solutions in these areas will continue to see opportunities in 2013 and beyond.